Passenger Services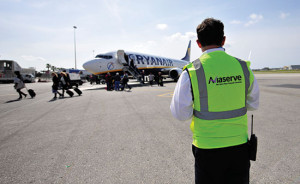 Aviaserve currently assists the vast majority of passengers traveling to and from Malta on foreign airlines. Our services include traditional check-in, ticketing, arrival handling and baggage tracing/lost & found, together with innovative bag-drop and ancillary revenue solutions.
Aviaserve is also contracted and licensed by Malta International Airport to provide specialised handling services to persons with reduced mobility (PRMs).
Services offered also include special assistance and escorting services for special needs passengers and unaccompanied minors.
VVIP handling is transacted through a dedicated independent business unit called Globe Aviation Malta that offers the full range of FBO services and deals primarily with executive aviation.
Ramp Handling
Aviaserve offers the full suite of ramp handling services including off/loading, aircraft cleaning, crew and passenger transportation, starting and ground power, catering and potable water uplift and much more.
The formulation, deployment and ongoing review of locally-relevant safe work practices is central to Aviaserve's ramp operation and to our commitment towards airline customers. Ramp safety is upheld and actively promoted through the implementation of a comprehensive Safety Management Programme that is enforced on a company-wide basis and goes well beyond the minimum industry, statutory or legal obligations.
Aviaserve has a huge, multi million-euro investment in its own GSE fleet. The size and typology of this fleet enables the company to handle virtually any commercial aircraft in circulation and gives us the operating capacity to handle a considerable number of simultaneous flights on ground.
We have a strict procurement policy of only working with reputable international GSE manufacturers who have a proven industry track record. In a bid to streamline training and promote safer operation, we also have a policy of maintaining a very homogeneous fleet that, among others, includes buses from COBUS alone, an entire fleet of High/Main-deck Loaders from Trepel and all tractors from Charlatte.
Due priority is also given to environmental considerations in sourcing ramp equipment and Aviaserve is committed to a phased fleet-renewal programme that will prioritise electric traction over combustion engines, thereby significantly reducing the company's carbon footprint over the next years.
Cargo Handling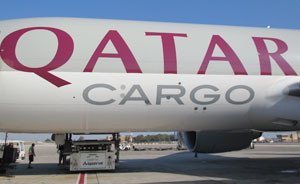 Aviaserve is licensed and equipped to handle virtually any type of airfreight ranging from highly perishable cargo, for which we have dedicated storage facilities, to bulk or ULD loads on scheduled flights, all the way to super-sized cargo on specialised freighter aircraft.
At Malta International Airport we operate a 1,500 square metre customs-bonded airfreight warehouse that benefits from both airside and landside access. This modern facility is fully securitised and comes complete with the required cargo handling infrastructure, including temperature-controlled storage, segregated racking, pallet build/break/transfer stations and even the latest in pallet-wide, dual view cargo screening technology.
Cargo customers handled in Malta include: Emirates Skycargo, TNT, Turkish Airlines, Thomas Cook, Ruslan, Antonov Design Bureau (ADB), Volga Dnepr, Meridian, Avient, TransMed and Thomsonfly.